High School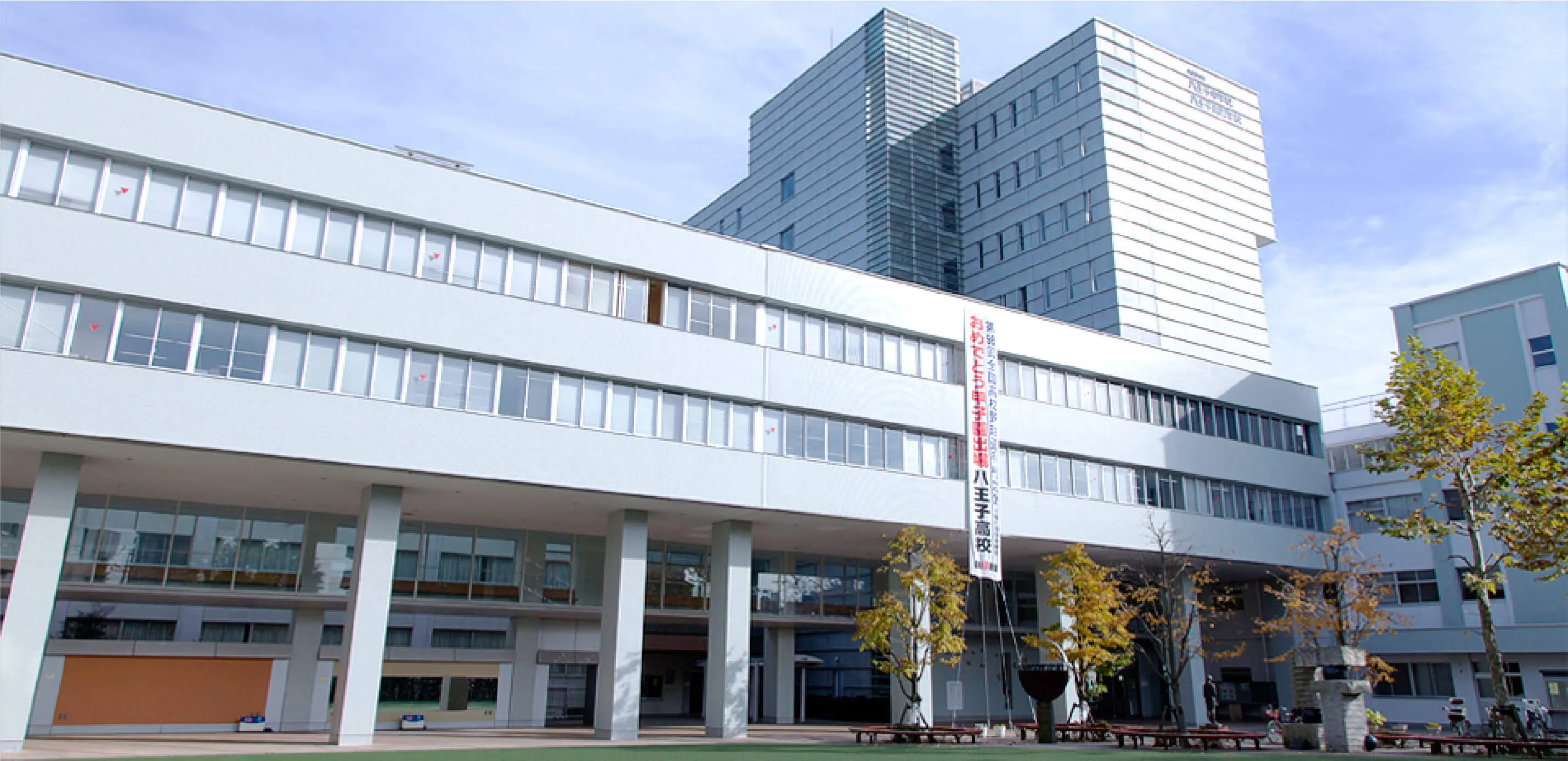 Hachioji High School is a private, co-educational senior high school located in Hachioji city, 35 kilometers west of central Tokyo, just five minutes walk from Nishi-Hachioji station on the Chuo line. It was founded in 1928 and is now one of the largest senior high schools in the Tokyo Metropolitan area. The school has a roll of over 1500 students aged between 16 and 18 years old. The six areas that the school prides itself on are:
1. providing students with the choice of three courses, three classes, three fields depending on their needs;
2. support and guidance in academic achievement;
3. an excellent environment for learning;
4. sport and club activities at a national level;
5. opportunities for international exchange through home-stays and year-long study abroad programs;
6. exciting campus life and school events.

Courses at Hachioji
The school is organized into three courses, three classes, and three disciplines to support each student's education in order to maximize his/her diverse potential.
Letters & Science Course:
Our goal is to help students develop comprehensive academic skills while assessing their individual abilities and aptitudes, supporting them to pass the entrance exam to be accepted into competitive national and public universities, including the University of Tokyo, as well as prestigious private schools like 'Sokei-Jouri' (Waseda University, Keio University, Sophia University and Tokyo University of Science), and 'MARCH' universities (Meiji University, Aoyama Gakuin University, Rikkyo University, Chuo University and Hosei University) or above.
-Executive Learning Class:
While the foundation of the school is to guide students their way for higher education, we also encourage them to take on their way to additional exploratory learning. On top of having the acceptance letter to the most difficult universities to get into, you will also acquire qualities that are essential in society.
-Advanced Progressive Class:
Advanced classes offered based on our original curriculum. The goal is to help students pass the entrance exam into competitive national and public universities, including the University of Tokyo, as well as prestigious private schools like 'Sokei-Jouri' (Waseda University, Keio University, Sophia University and Tokyo University of Science).
-University Preparatory Class:
With the same curriculum as the Advanced Progressive Class, students aim to pass the entrance exams for national and public universities and/or prestigious private universities.
2) Comprehensive Course:
We have three different programs to prepare students for four-year liberal arts schools at the level of 'Nitto-Komasen' (Nihon University, Toyo University, Komazawa University, and Senshu University) or above, music schools, and art schools.
-Liberal Arts:
While keeping a good balance in every academic subject, students will be prepared for a wide range of academic paths in both humanities and sciences.
-Music:
In addition to the basic electives, we also provide instructions for practical performances and prepare classes and exercises tailored to the student's aptitude and abilities.
-Arts:
With thorough instruction in basic education and a variety of elective courses, students acquire specialized skills in art to tackle their future goals.
3) Athlete Course:
While aiming for the national championships in club activities, we also focus on the admission into universities. In particular, we support the students going for four-year liberal arts schools and physical education schools.
International
International understanding and exchange is an important part of life at Hachioji High School.
Home-stay - Students are offered home-stay in Utah, the United State of America.
Study-Abroad - Hachioji High School sends students to New Zealand for short-term study program.
Foreign Students - Hachioji High School accepts several foreign students each year. In recent years, students from Senegal, Germany, America, Malaysia, New Zealand and Brazil have studied along side their Japanese classmates. Foreign students also have Japanese language classes taught by Japanese as a second language teacher.
Wind Orchestra - Hachioji High School's wind orchestra travel to the European Youth Orchestra Competition where in past years it has achieved top awards and prizes.
Art Study Tour - Every 3 years, art course students are invited to participate on a tour to Europe to visit well-known art galleries and historic sites.
School Exchanges - Hachioji also hosts school visits from abroad. In recent years Chinese school students have visited on a number of occasions and interacted with students.
Sports and Club Activities
Hachioji High School offers and encourages students to join one of many cultural and sport clubs that are available. Hachioji High School's baseball, swimming, basketball and soccer teams are particularly strong. Also, the wind orchestra is highly regarded. Most sports teams go on to represent the school at national-level competitions. Clubs that are available to students include;
*gymnastics
*international
*photography
*rugby
*Japanese puppet dolls
*track and field
*swimming
*judo

*illustration
*guitar
*art
*mass communication
*mountaineering
*handball
*badminton
*baseball

*historical society
*cooking
*tea ceremony
*soccer
*karate
*wind orchestra
*legal mind
*volunteer

*science
*drama
*dance
*table tennis
*tennis
*chorus
*calligraphy
*fishing

*shogi
*softball
*volleyball
*basketball
*kendo


etc.
School events
April
Entrance ceremony, 1st year student's orientation week, student health checks, performing arts appreciation day
June
Sports day, student council meetings and elections, school open day, parent-teacher interviews
July
End of term tests, summer holiday home-stays to the U.S and Australia
September
Ball sports day, school festival
October
School open day, mid-term tests
November
School trip to Okinawa, parent-teacher interviews
December
End of term exams
February
Graduation ceremony